Michael F. Wolf
28 April 1919 - 15 Dec 1944
U.S. Army Air Corps
Pacific Theater

A bridge dedication was held
on 23 June, 2001 in
Waterville, Pennsylvania
to honor
LT Michael Frederick Wolf


Second Lieutenant
Michael F. Wolf,
US Army Air Corps,
flew with the
27th Bomber Group,
91st Bomber Squadron,
in the
Pacific Theater
during World War II.

He never made it
back home.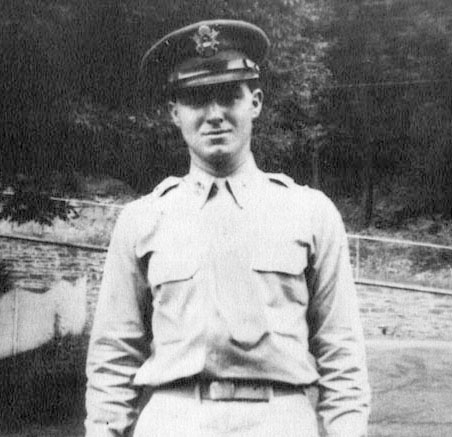 A bridge
located on
PA Route 44,
which crosses
Little Pine Creek
in his home town of
Waterville, Pennsylvania,
was dedicated
in his honor
on
23 June, 2001
at 2:00 PM.

Thank You
to ALL who
attended.


Lt. Michael F. Wolf - some details:


Be sure to read the two Insert Pages (1 + 2)
of the Dedication Program on the Bridge Dedication page
for the details of Michael's brief War History

Jersey Shore High School - Class of '37
Susquehanna University - Class of '41

1 of 1619 Prisoners of War
aboard the "Hell Ship" ORYOKU MARU
(Memorial Day update: 010528)
Although earlier records identified the 19th Bomber Group,
further investigations by me now show that Lt. Wolf was attached
to the 27th Bombardment Group (L) , 91st Bombardment Squadron.
This information is from the very helpful folks at the
American Battle Monuments Commission - Manila,
which will be updating their database!
Michael F. Wolf
(Update: 010618)
A new, very informative web site,
The Oryoku Maru Story,
lists post-war trial information and
POW names, among many other items.
If you visit, please sign their Guestbook,
simply to let them know you were interested.
Thank you.



Visit often for updated information and details...
If you happen to have any information concerning
Michael F. Wolf,
please contact me
Steven L. Bonnell (slbnl@kbsb.com)
---
---
page by: Steven L. Bonnell (slbnl@kbsb.com)
---
<- from http://www.kbsb.com/wolf/ ->
<- File: default.htm . . . Latest Update: 150522.0638 ->